Locally also knows as "Chicharon" in Ilocano, is a Filipino dish consisting of pork belly (liempo) boiled and deep in fried until it is crispy
The difference betwwen Bagnet and Lechon Kawali is mainly on how to cook them. Lechon Kawali is a deep-friend only once while Bagnet is fried twice with much longer to produce the crackling, juicy taste of the meat and unique and enticing flavor.
This recipe is simply a chicken roasted low and slow in a bath of extra virgin olive oil, cosseted in cloves of garlic, onion, herbs, and packed with peppercorns. It requires minimal prepping time before being baked in the oven. So it means it is perfect for busy weeknights!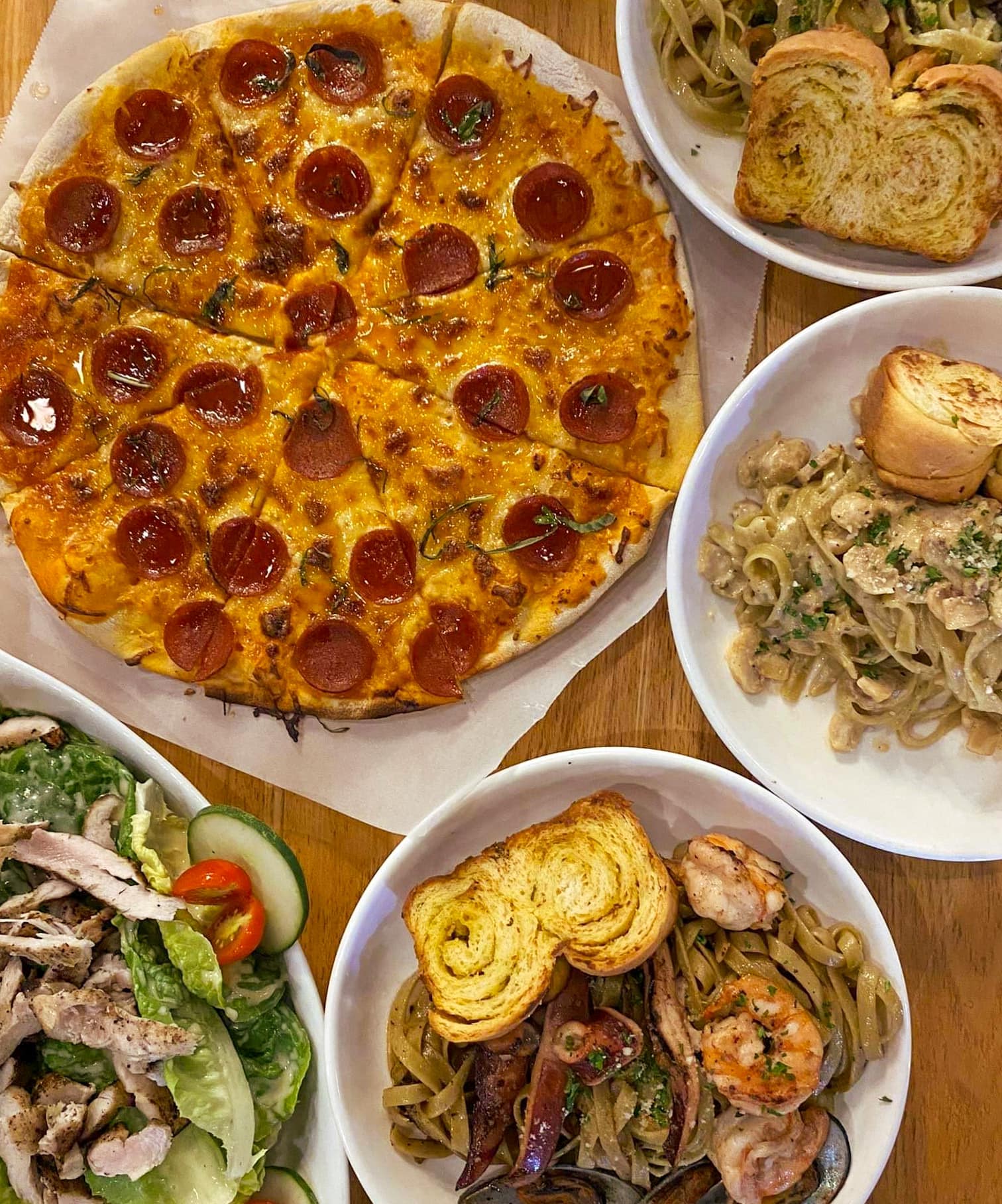 Pizza, Pasta, Salad and Burger
Mangantila Cafe offer different flavor of pizza, pasta, burger and salad. Pizza and is traditionally topped with pineapple, tomato sauce, cheese, and either ham or bacon. Pasta this seafood pasta is a mix of shrimp, clams, mussels and scallops, all tossed together with spaghetti in a homemade tomato sauce. An easy yet elegant meal that's perfect for entertaining. Burgers A Hawaiian Burger is the most flavorful grilled burger ever! It's piled high with grilled pineapple, bacon or ham, and the BEST creamy BBQ sauce!. Caesar Salad is a green salad of romaine with a highly seasoned dressing of pounded anchovies, olive oil, lemon juice, egg, and Parmesan cheese, garnished with croutons. Vegetable salads may be marinated or sauced mixtures of raw or cooked vegetables.
Why Mangantila Cafe and Restaurant
the experience it offers to the customers. Apart from serving good food, many factors elevate the overall experience of the customers and make their visit memorable. Staff showing good value, good service, cleanliness, quality food and drink all point to experience, just as they have for years. Factors like speed, delivery, presentation and are increasingly important, and they may determine a restaurant's ability to deliver "good value".
The badges illustrate this.  We also focus on key benefits they will get while using our services, namely quick turnaround times and dedicated support. You could also use them to show awards you won for your best work.